Evergreen Community Aquatic Center is offering Summer Swimming Lessons:
MORNINGS:
Lessons are offered Monday – Thursday for two weeks.
Each session will have 8 classes.
Open Registration:
Register Anytime Cost: $72
Morning Session Dates:
June 22 – July 2
July 6 – July 16
July 20 – July 30
Aug 3 – Aug 13
Aug 17 – Aug 27
EVENINGS:
Lessons are offered twice a week on a monthly schedule.
Each session will have 8 or 9 classes.
Evergreen Community Aquatic Center is located at 606 SW 116th Street, 98146
Jamie Ewing, a teacher at White Center's Mount View Elementary, earned first place in The Henry Ford's Innovative Nation Teacher Awards.
Ewing is one of ten first place winners in the country.
The award recognizes educators who are using the classroom to inspire innovation, creativity, problem-solving, and critical thinking among their students.
"I would like to congratulate this nationwide group of educator innovators who are truly changing the way students are learning in the classroom," said Patricia Mooradian, president of The Henry Ford. "I look forward to welcoming them here this summer and watching as this program continues to grow."
Winners were selected by a team of judges based on their original and creative approaches to teaching, their resourcefulness, and the positive impact they make on a daily basis in the classroom. Student engagement, learning goals, and evidence achieving those goals were also taken into consideration.
"Jamie is a collaborative teacher who consistently shares his expertise, commitment, and innovative thinking with our learning community," said Mount View Principal Lisa Escobar. "He engages students by empowering them to solve meaningful problems using critical thinking and technology."
First place winners will receive a week long "Innovation Immersion Experience" at The Henry Ford in Dearborn, Michigan, taking place July 25 – July 31, 2015. The experience includes behind-the-scenes tours with curators and archivists, a teaching innovation workshop, and a special recognition ceremony.
Ewing is a National Board Certified Teacher. Microsoft inducted Ewing into its Expert Educator Program in 2013, and he was named a 2015 Microsoft Innovative Educator Expert (MIE Expert). He has also been named a 2013 Innovative Teacher of the Year recognized by the Academy of Arts and Sciences in Education and 2014 Teacher of the Year recognized by the Museum of History and Industry.
Ewing is no stranger to awards either – previously he's won top honors in Microsoft's Partners in Learning U.S. Forum as well as a 2014 Public Broadcasting Service (PBS) LearningMedia Digital Innovator (read our previous coverage here)
Mount View Elementary is located at 10811 12th Ave SW in White Center.
Here's episode #3 of our SoKing News Podcast, which is sponsored by a generous grant from J-Lab's Encore Media Entrepreneurs program, supported with funding from the Ethics and Excellence in Journalism Foundation and the Nicholas B. Ottaway Foundation:
If you've passed by the old McMurphy's Pub near where the south edge of White Center meets north Burien (11069 16th Ave SW), you may have noticed some unusual painting going on the south side of the building.
An urban artist named Jeff "Weirdo" Jacobson has painted a mural on it, in an effort "to repurpose a dilapidated community space."
The old pub will apparently be re-opening sometime in 2015 as the "People's Republic of Music." Word is that it will become a live music performance space, a recording studio as well as an all-local music store.
Here's a video showing the work 'Weirdo' has done so far: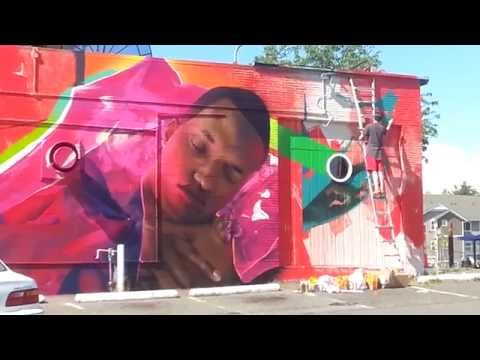 Here are some photos of the building from the project's Facebook page:
Here's more info on the Artist:
For the last decade Jeff "Weirdo" Jacobson has been a prominent force in the urban contemporary scene in Seattle. From his vividly inspiring city block mural on 2nd Ave in downtown Seattle, to his inclusion in Chase Jarvis' "Seattle 100" book of the most influential people in Seattle, Jacobson has been a making major strides and his career as an in demand emerging artist has been blooming. He recently received the prestigious 4Culture/Artist Trust "Conductive Garboil Grant" in 2011 for his murals in the Seattle's historic Pioneer Square area. In addition to his larger than life spray-painted walls, Jeff is also known for his hyperrealistic yet surrealistically dreamlike gallery work. His canvases reflect his vision of a changing world underscored by darkness, yet balanced by a creative benevolent force. His work often features grotesquely surrealistic organic forms, inspired by plants, funguses, and corals, which sprout from hyper-realistic portraits. These figures and portraits display an astonishing level of finish and detail.
For more information, visit https://www.facebook.com/PeoplesRepublicOfMusic
Highline Public Schools Teachers will be "walking out" of classrooms this Thursday, May 21 – all school is canceled for the day – and will be striking at the following sites, including a big rally at Moshier Field in Burien set for 1 p.m.:
"Our walkout is a principled non-violent protest in support of a value we hold deeply — the promise afforded by universal public education to create individual opportunities for our students, and stronger communities for all," reads an announcement.
Here's more from the Highline Education Association:
Parents and others in our community support great schools and can be strong allies. You can help build support with them for the issues we care about by helping the community understand what's at stake and why we're taking this action.

We need less time spent on testing, and more time spent on teaching.
We need smaller classes so we can help every single one of our students learn.
We need professional pay and benefits so that we can feed our own families, pay our own bills, and afford to stay in our current careers.
What do teachers want? We want kids in our community to get a great education.

We've tried for years with letters and emails and rallies to convince lawmakers they need to comply with state constitutional mandates and court orders to adequately fund public education, but without success. Answer questions openly and honestly, but avoid getting into a debate or disagreement. If you are talking to parents you know in the community, encourage supporters to join us on picket lines or at our joint rally on May 21 at Moshier Field, 430 S. 156th St, Burien at 1:00 pm.

Spread the word by explaining to their friends why these issues are important, either on social media, or in quick conversations in grocery store checkout lines, or in letters to the editor in local newspapers.

Help feed a hungry child on May 21: Bring a can of food

We're not just walking in support of public schools on May 21. We're trying to support another good cause, too: feeding the hungry. To support families of Highline, we are supporting our local food banks. Please bring a can of food or other non-perishable food item to the midday rally at Moshier Field. We'll have a collection site so that donations can go to help families here in our community.

Join the Sign Waving Efforts on May 21, 2015 – Site Locations:

North Zone, Site 1: SW 107th & 16th Ave SW
North Zone, Site 2: SW 128th St. and 1st Ave. S
North Zone, Site 3: SW 148th St. and 1st Ave. S
North Zone, Site 4: SW 160th St. and 1st Ave. S ("Five Corners")
South Zone, Site 5: S 188th St. and Pacific Highway S (99)
South Zone, Site 6: S 216th St and Marine View Drive
South Zone, Site 7: Kent-Des Moines Road and Pacific Highway S (99)
Map of Locations:
On Saturday, May 30 at 7 p.m., the Highline Bears will bring Semi-Pro baseball back to the Highline Community for the first time in over 30 years, when they take on the Snoqualmie Hurricanes at Steve Cox Memorial Park in White Center.
The Bears hope to pack the stadium with hundreds of families, spanning from White Center, West Seattle, Burien, Normandy Park, Des Moines and beyond.
Tickets to games are only $3 and kids 12 and under are free. Season tickets are also available for only $40, which includes a free t-shirt.
"We wanted to provide affordable family entertainment for everyone in our community" said General Manager Justin Moser.
In the 1950's, 60's and 70's White Center Stadium (now Steve Cox Memorial Park) was the home of men's semi-professional baseball and professional fast pitch softball teams. Several hundred adults, kids and families would fill the stands and sit along the side fences watching a high level of baseball under the lights on Friday and Saturday nights. The stadium hosted former professional baseball players, college athletes with dreams of making it to the big's and men's fast pitch teams like Pay n' Pak and the King & His Court.
The Highline Bears are a new expansion team in the Pacific International League. The Pacific International League (PIL) was founded in 1992, the league is considered by many to be the premier Summer Collegiate Baseball league in the Northwest. Sanctioned by the National Baseball Congress (NBC), most PIL players are NCAA eligible and are unpaid in order to maintain their eligibility. The PIL is different from many other summer collegiate baseball leagues in that the league also allows former professionals and college graduates to participate.
The Bears roster is made up of 25 athletes, from all over the country and even one from Brisbane, Australia. The team plays around 40 games in just 60 days. Sixteen of those games are scheduled for Steve Cox Memorial Park. On June 19 the Bears will be hosting the US Military All-Stars for Military Appreciation night.
"We want to bring our community together through the game of baseball," Moser added.
You can purchase tickets online at www.HighlineBears.com or at the gate on May 30. Gates open at 6 p.m. and the first pitch will be at 7 p.m..
The Bears are also still looking for sponsors and volunteers to help throughout the season. For more information, please contact Justin Moser at 253-310-6602 or e-mail Info@HighlineBears.com.
Here's episode #2 of our new SoKing News Podcast, which is sponsored by a generous grant from J-Lab's Encore Media Entrepreneurs program, supported with funding from the Ethics and Excellence in Journalism Foundation and the Nicholas B. Ottaway Foundation:
See – and hear – all SoKing News Podcasts here.
REMINDER: White Center's annual 'Spring Clean' event is set for this Saturday, May 16, from 8:30 a.m. – Noon, starting at the Bethaday Community Learning Space at 605 SW 108th Street.
Lunch & Celebration will run from 12:30 – 2 p.m.
White Center Community Development Association
Bethaday Community Learning Space
605 SW 108th St.
Seattle, WA 98146
Instructions:
If you want to participate as a volunteer, please register below. Walk-ups are welcome, but are not guaranteed a free t-shirt, breakfast and/or lunch.
If you are under the age of 18, please fill out a youth-volunteer waiver form, which can be found at: www.wccda.org/images/docs/sc2011_minor_release_form.pdf. Please return all forms signed and completed to the White Center CDA (location above). You can fax the form to 206.658.8344, scan and email it to whitecentercda@gmail.com or bring it with you to the registration. No form, no fun.
For more information:
Julia Bautista Salinas
Julia@wccda.org
206.694.1082
or visit: www.whitecenterspringclean.tumblr.com
Disclaimer
All Volunteers acknowledge that this is a White Center CDA sponsored event, and that your likeness may appear in CDA materials and/or on the website: www.wccda.org
WCB Real Estate Sponsor Berkshire Hathaway Home Services Northwest's Open House – set for both this Saturday and Sunday – is a charming Craftsman-style Farmhouse!
This 3-bedroom home has two stories, with a fully finished, light, bright basement with large utility room and separate entrance.
Built in 1910, this home has lots of classic character, with loads of updates!
Enter the Living Room with Hardwood Floors and Pillars leading to the open Dining Room.
The Kitchen has a nice Eating Space and Glass Slider to Deck that opens to Backyard.
Excellent location, close to Lincoln Park and Ferries!
Here are some pics (click images to see larger versions/slideshow):
Here are the details:
WHAT: Berkshire Hathaway HomeServices Northwest Open House
WHEN: Saturday, May 16 and Sunday, May 17, from Noon – 3 p.m.
WHERE: 10234 40th Ave SW, Seattle 98146 (Map)
INFO:
List Price: $459,900
MLS Number: 788357
Bedrooms: 3
Bathrooms: 1.75
Year Built: 1910
Approximate House SqFt: 1,965
Lot Square Footage: 5,618
Site Features:
Fruit Trees
Garden Space,
Paved Street
Cable TV
Deck
Fenced-Fully
Marketing remarks:
Charming Craftsman Style Farmhouse with Picket Fence.

2 Stories with a fully finished, light, bright basement w/large utility room and separate entrance.

Character with loads of updates.

Enter the Living Room with Hardwood Floors and Pillars leading to the open Dining Room.

Kitchen with Eating Space and Glass Slider to Deck opens to Backyard.

Excellent location, close to Lincoln Park and Ferries.
Click here to see the full, detailed listing.
Click here to view all of Berkshire Hathaway's Open Houses, and click here to "Like" them on Facebook.
All schools in Highline Public Schools will be closed on Thursday, May 21 due to a teacher walkout.
The Highline Education Association (HEA) – the teachers' union – voted by an 88% majority Tuesday night (May 12) to participate in a one-day walkout on May 21.
According to the union's website, "teachers and support staff have gone six years without a state cost-of-living adjustment (COLA), the Republican Senate budget only includes a small 3 percent COLA over two years and no increase in health care funding, which means teachers will take home less money next year as health care costs rise. Legislators are in line to get 11 percent raises. Several budget proposals would also unjustifiably restrict school districts' flexibility to make local decisions about teacher compensation and staffing for student programs."
The district said that it does not have enough substitute teachers to cover all classes that day, so school will be cancelled on May 21.
Highline will make up the school day on May 26, the district's scheduled snow make-up day.
HEA wrote in communication with its members:
"The target of HEA's May 21 Day of Action Walkout is the WA State Legislature, not the Highline School District."
The premiere episode of SoKing News' first-ever Newscast on May 8, 2015: